BOILER BLOWDOWN WATER RECOVERY UNITS 
Boiler blowdown water recovery units offer simple solutions for discharging, containing, and recovering boiler water in Alberta. Our best-in-class solutions rely on a patented-protected process that follows stringent ERCB regulations and offers total containment for cleaner boiler water, greater efficiency, and excellent cost savings
Features & Benefits:
Easy to move – 2200 lbs – 4'W x 14'L x 5'H
Easy rig in – 2" rubber steam line
110 volt pump
2" blow down line and 4" clean out
Full length steam coil
Loads with skid steer, picker or fork lift
Simple operation all most no maintenance
Water conservation; environmentally responsible due to fresh water use legislation
Boiler runs cleaner
Less boiler chemical – water returned to boiler is already treated
Safety – no steam cloud, no ice field, no melt hole
Haul less water and Less fluid disposal;
Recovered water- used in boiler, drilling mud or rig water
Environmental – no high ph water on the ground (total containment)
Tank can be secured on top of the rig matting and will normally stays with rig for winter
once rented
No land reclamation is required
Accurate blow down volume
Personal Safety:
Eliminates the chance of personnel being hit by hot water or steam
No pits or trenches posing a danger of stepping or falling into
Eliminates freezing of lines – drainage valves & attachments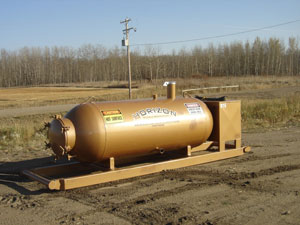 Easily control excess fluid and gas with flare tanks designed to work for virtually any site or field
conditions. Each flare tank is simple to connect and install in the field. Rent a flare tank through
Horizon Oilfield Rentals to mitigate risks and meet your project's safety and environmental
sustainability goals with confidence.
Features & Benefits:
Replaces flare pits for drilling operations in zero or low disturbance areas.
Prevents the cost of cleanup after a spill, large kick or blow out.
The flare tank will handle a 10 cube kick and has a 10 meter unload hard line.
Mud can be returned tothe rig tanks for use. 
Well gas can be safely burned 16 feet in the air using positive electronic ignition. 
The stacks can be safely ignited 100ft. frm the tank. 
Comes with 2-8″ vent lines (from the rig degassers) rhat run directly to stacks on the flare tank. These lines swivel 180 degrees as well as slide 20″ back and forth. 
2 schedule 80-4″ gut lines (from therig manifold shack)
A schedule 80-6″ diverter line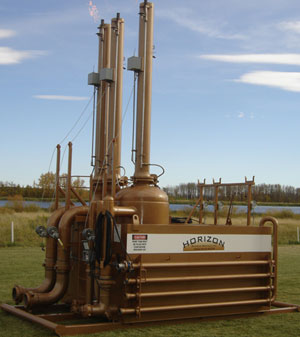 We carry a selection of portable trash pumps in Alberta & Western Canada for efficient dewatering solutions. Our high-powered trash pumps are built for heavy industrial applications and make light work of drilling operations. We have options built to handle a variety of solids and slurry without becoming congested, providing you with continuous recirculation.
4″ Trash pumps 230/460
4″ Water pumps 230/460
2" Trash pumps (ditch) 110 volt
FIRE SUPPRESSION SKIDS / BOILER BLOW DOWN COMBOS:
Featured and Benefits
Our fire skids include not only the required water pump and water supply, but all of the hand tools and backpack sprayers as required by Alberta regulations. This gives the peace of mind knowing you are well prepared for fulfilling due diligence to protect our woodlands in a fire situation.
Fully self contained with fire aid 2000 foam to allow suppression of hydrocarbon and forest fires.
WH15X Honda High pressure fire pump up to 400 litres/min – 1000 ft hose
Water capacity- 500 or 600 gallons
Hand tools and backpack sprayers as required by government regulation
Portable – can be moved full – 7000lbs.
Fully equipped, 600-gal, fire aid 20000 foam, 6.5 hp two stage Goliath fire pump
ALBERTA REGULATION 135/72:
Fire Fighting Equipment
26 A person carrying on or being in charge of a timber, forest, mining, drilling or other industrial or commercial operation in or within 1 kilometre of any public land shall keep at the site available for immediate use an adequate water supply for fire fighting purposes plus at least the equipment listed in Table "A" in good working condition, according to the number of men employed at the site.
AR 135/72 s26;290/79