BOILER BLOWDOWN WATER RECOVERY UNITS 
Features:
Easy to move – 2200 lbs – 4'W x 14'L x 5'H
Easy rig in – 2" rubber steam line
110 volt pump
2" blow down line
4" clean out
Full length steam coil
Skid or picker load
Simple operation
All most no maintenance
Benefits:
Water conservation
Haul less water
Boiler runs cleaner
Less fluid disposal
Less boiler chemical – water returned to boiler is already treated
Safety – no steam cloud, no ice field, no melt hole
Environmental – no high ph water on the ground
Pays for itself
ENVIRONMENTAL MAINTENANCE:
The ERCB does not recognize surface release of boiler blow down fluids as acceptable.
Boiler blow down water (ph 12.5) exceeds environmental allowance of water (ph 9) to be expelled on the soil or water table
Total containment is mandatory in zero spill and highly sensitive drilling and servicing areas
No land reclamation is required
PERSONAL SAFETY:
Eliminates the chance of personnel being hit by hot water or steam
No pits or trenches posing a danger of stepping or falling into
Eliminates freezing of lines – drainage valves & attachments
 EFFECTIVE WATER MAINTENANCE:
Environmentally responsible due to fresh water use legislation
Accurate blow down volume
Recovered water- used in boiler, drilling mud or rig water
REDUCTION OF DRILLING and SERVICING OPERATIONS COSTS:
Saving on soda ash and caustic soda by reusing active ph boiler water
Trucking costs – water hauling and water disposal reduced
Land reclamation cost savings – no pit or trench to remove or replace
No dilution or retesting of water for disposal
Trucking costs – tank can be secured on top of the rig matting
Will normally stay with rig for winter once rented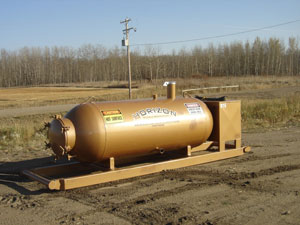 Features & Benefits:
Flare tanks were originally used to replace flare pits for drilling operations in zero or low disturbance areas. The use of flare tanks has become much more common in last few years due to environmental and safety reasons. The cost of the cleanup of a spill after a large kick or blow out due to pit failure can run into the hundreds of thousands of dollars. RE: blowing the back out of the pit & painting the bush or a farmer's field with mud and hydrocarbons.
The flare tank will handle a 10 cube kick and has a 10 meter unload hard line in case the tank should need to be emptied during well control operations.
This mud can be returned to the rig tanks for use. – Zero environmental impact, no clean up. No flare pit to dig, treat or fill in.
As far as safety is concerned using a flare tank, well gas can be safely burned off 16 feet in the air using positive electronic ignition. The stacks can be safely ignited 100 ft from the tank. This is a lot safer than sending a man to the pit to light a tiger torch or pail of sawdust and diesel.
The vacuum truck driver is never placed in a hazardous location. RE: placing a hose into a burning or sour (H2s) pit.
Usage:
The tanks come with 2 – 8" vent lines (from the rig degassers) that run directly to stacks on the flare tank. These lines swivel 180 degrees as well as slide 20 inches back and forth.
The tanks also have 2 schedule 80 – 4" gut lines (from the rig manifold shack).
A schedule 80 – 6" diverter line (if a diverter is used on surface casing the 6" line must run from the diverter to the tank with no restrictions. You cannot hold back any pressure with a diverter)
These 3 lines swivel 180 degrees. This makes rigging in our flare tanks a lot easier than many of the competitions.
This is the fourth generation of igniters on our tanks. They have been developed over 4 years of field operation.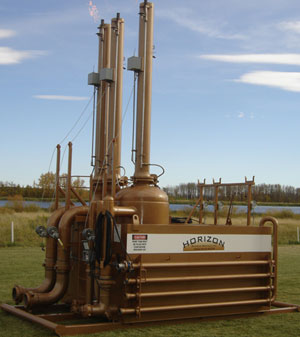 FIRE SUPPRESSION / BOILER BLOW DOWN COMBOS:
Fully self contained with fire aid 2000 foam to allow suppression of hydrocarbon and forest fires.
WH15X Honda High pressure fire pump up to 400 litres/min – 1000 ft hose
Water capacity- 500 or 600 gallons
Hand tools and backpack sprayers as required by government regulation
Portable – can be moved full – 7000lbs.
FIRE SUPPRESSION SKIDS:
Fully equipped, 600-gal, fire aid 20000 foam, 6.5 hp two stage Goliath fire pump
ALBERTA REGULATION 135/72:
Fire Fighting Equipment
26 A person carrying on or being in charge of a timber, forest, mining, drilling or other industrial or commercial operation in or within 1 kilometre of any public land shall keep at the site available for immediate use an adequate water supply for fire fighting purposes plus at least the equipment listed in Table "A" in good working condition, according to the number of men employed at the site.
AR 135/72 s26;290/79
4″ Trash pumps 230/460
4″ Floc pumps 230/460
2" Trash pumps (ditch) 110 volt
40 KW generator (skid mount)